Most anglers say the best time of the year to catch Pearl Perch fish in Sydney is from in the summertime.  The Pearl Perch is found offshore near reefs to a depth of 200 metres. This is an excellent eating fish.
Fish Details
Size: Up to 7 kilograms
Length: Up to 70 cm
Food Rating: Excellent
Territory: Offshore, Reefs to 200 metres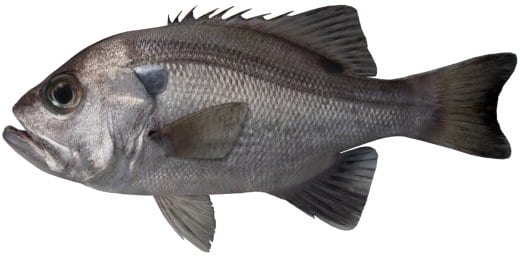 The scientific name for the Longin Perch is Glaucosoma scapulare. 

How to identify a Pearl Perch Fish
Large dark blotch at the rear of the dorsal fin
Pearlish green mixed with silver-grey in colour
On the scales are golden brown specks
They have quite large eyes
Some say this is the best eating fish in the Southern hemisphere ocean waters.  You can simply grill the fish, add some mayonnaise and squeeze some lemon and you will understand why this fish is sought by anglers. Pearl Perch love for about 20 years or so. They are a slow-growing fish and it takes them anywhere up to 7 years to reach maturity. They are a managed fish and the minimum size is 30cm with a bag limit of 5 in NSW.
Where and When to Catch Pearl Perch
Pearl Perch travel in small schools. They can be found to depths of 200 metres usually in and around reefs.  Most fishermen will say Pearlies can be caught from 35 metres to 100 metres. Wire weed and gravelly bottoms are considered the best place to land pearl perch.  Daytime is the best time to go fishing for Pearlies. If you are fishing over a reef the best baits would be squid, octopus, prawns and small live bait.
They say you the best time to catch the Pearl Perch is in the summer and in the morning or afternoon.
Fishing for Perch in Sydney

On all our fishing and deep-sea fishing charters in Sydney, all you need to bring are the right clothes depending on the weather conditions. We will supply everything else including bait, fishing rods and reels and fishing licence. At the end of our fishing trip, you get to keep what you catch.  We have 3 purpose build fishing vessels that have all the facilities and amenities you require.